9 Heavenly Handmade Soaps In Malaysia You Need To Try Right Now
Did you know that most commercial soaps are basically detergents?
Yes. Detergents. You know, like what you use to wash your clothes.
Commercial soaps are harsh, drying and strips your skin of the natural oils that protect, heal and moisturise your skin.
This is because they usually lack glycerin, a moisturiser that naturally occurs as a by-product of traditional soap-making process. Large-scale soap manufacturers prefer to remove glycerin from their soaps and use them in body lotions and moisturisers instead, since these fetch a higher price.
Sneaky, huh?
Handmade soaps have none of that hanky-panky.
They're made with natural oils, have a high glycerin content and are typically enriched with essential oils and other skin-loving ingredients, such as goat's milk, volcanic clay, honey and yoghurt. Most are super gentle on the skin, so you can use them on both body and face!
Because we're SO obsessed with handmade soaps, we've hunted down some of our favourite handmade soaps in Malaysia. Enjoy!
1) Claire Organics – Guinness Stout with Organic Raw Honey Soap
Star Ingredients: Guiness Stout, Organic Raw Honey
Best Used For: Deep Cleansing, Anti-Acne
This soap sounds like it could get you drunk but the truth is that it has no alcohol content whatsoever.
During the soap-making process, all the alcohol is evaporated, so what's left of the Guinness Stout are hops, barley and brewer's yeast — great for your skin because they're antibacterial & anti-inflammatory.
Best for those who are battling with acne.
(Available here at Modbox @ RM29 for 100g)
2) Earth Care – Goaty Melons Goat's Milk Soap
Star Ingredients: Goat's Milk, Honeydew
Best Used For: Moisturising, Nourishing
Rich in minerals, nutrients and antioxidants, goat's milk is a godsend to your skin because it's so wonderfully nourishing and moisturising.
In fact, with prolonged use, you may find yourself reaching less for that after-shower body lotion because your skin is already soft and supple!
And while many commercial brands use powdered milk, Earth Care uses only fresh goat's milk, so you're getting really good stuff here.
(Available here at Modbox @ RM18 for 100g)
3) Yuan Soap – Wild Mugwort Soap
Star Ingredients: Wild Mugwort, Green Tea, Verbena
Best Used For: Relieving skin problems, e.g. eczema, itching and scaling
Hailing from Taiwan, Yuan Soap honours the traditional wisdom of using natural herbs as remedies in their handmade soaps. This Wild Mugwort Soap is their bestseller and works like a charm to heal itching and skin problems like eczema. But be warned — if you don't like strong herbal scents, this may not sit well with you.
(Available at Yuan's Soap @ RM33.90 for 100g)
4) Claire Organics – Mother's Breast Milk Soap
Star Ingredients: Breast Milk (yes, really!)
Best Used For: Nourishing, Gentle Protection
Yes, we know. This one's pretty unconventional, but a mother's breast milk is packed with so much good stuff, it's almost a sin to let them go to waste.
So what's a mommy to do with extra breast milk? Turn them into natural handmade soaps!
They make wonderfully nourishing and gentle cleansers, great for yourself and your baby too! You can choose to enrich them with sweet almond oil, shea butter, bamboo charcoal and also purple gromwell — all great stuff for your skin!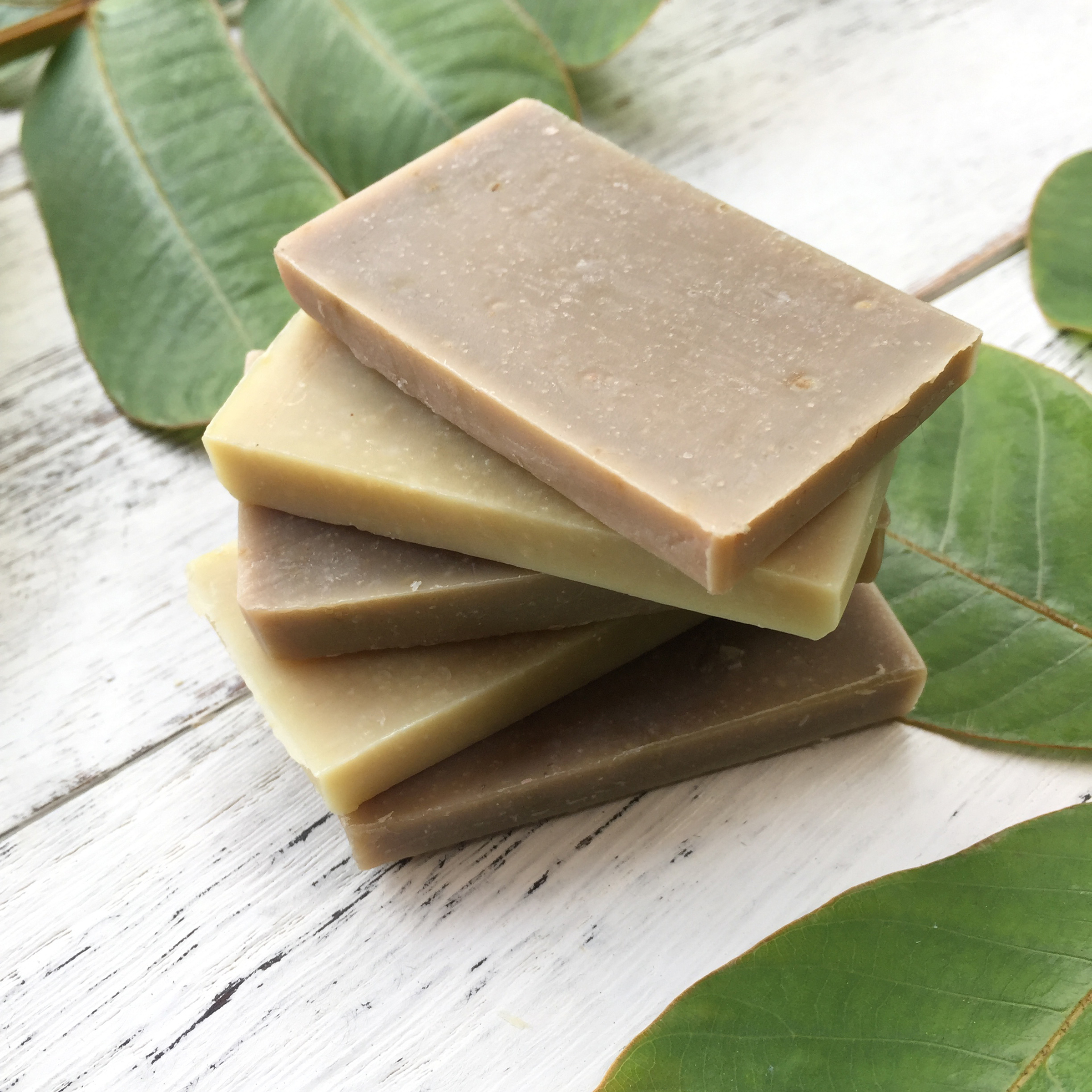 (Get in touch with Louise from Claire Organics or contact us for more details)
5) Soap Artisan – Mt St Helens Soap
Star Ingredients: Volcanic Clay
Best Used For: Anti-Ageing, Anti-Acne
A mineral-rich anti-ageing soap, this handmade soap from Soap Artisan helps to moisturise skin, reduce fine lines and also reduce acne. Enriched with volcanic clay from Mt St Helen, it works to purify the skin, control oil secretion and stimulate skin regeneration.
(Available at Soap Artisan @ RM25 for 100g)
6) Lullabelle – Ginger Kisses Hair & Body Soap
Star Ingredients: Ground Ginger, Cedar Wood, Grapefruit
Best Used For: Relieve Itching, Stimulate Hair Growth
This ginger-infused handmade soap can be used for both body and hair. Packed with a dream team of anti-hairfall ingredients, such as ginger, cedar wood, grapefruit and rosemary, this soap helps to balance hormones to supply the necessary nutrients to stimulate healthy hair growth and also to heal scalp conditions.
(Available at Lullabelle @ RM22 for 150g)
7) Kindersoaps – Spiced Coffee Soap
Star Ingredients: Ground Coffee, Fresh Yoghurt
Best Used For: Mild Exfoliation, Moisturising
This handmade soap is loaded with ground coffee beans for mild exfoliation, and also features fresh yoghurt to soften and moisturise your skin.
With a therapeutic blend of ginger, lemongrass and lime essential oils, this will rejuvenate your senses to lift your spirits and soothe mind, body and soul.
(Available at Kindersoaps @ RM20 for 100g)
8) Kalleo Soaps – Royale Turmeric Soap
Star Ingredients: Turmeric Oil, Turmeric Leaf Extract
Best Used For: Relieve Congested Pores & Acne
This may look like any other normal soap, but it's actually packed with a lot of natural goodness.
Made with the leaves of turmeric and lemongrass extract, this citronella-scented handmade soap helps to relieve congested pores and acne. Both turmeric and lemongrass have antibacterial and astringent properties, so they're amazing for your skin.
(Available at Kalleo Soaps @ RM18 for 110g)
9) Bisou Bon Bon – Printemps Soap
Star Ingredients: Tea Tree Oil, French Green Clay
Best Used For: Anti-Inflammatory, Oil Control
This delightful soap from Bisou Bon Bon is especially great for those with oily, congested skin. It has Tea Tree Oil, which is a potent antibacterial, anti fungal and antiviral agent, and also Geranium essential oil, another ingredient that's prized for its anti-inflammatory properties. Together with French Green Clay that works to detoxify and draw out impurities, this handmade soap will leave you with softer, clearer skin!
(Available at Bisou Bon Bon @ RM20 for 100g)
Other Interesting Posts!: 4 Surprising Habits That Are Causing Your Breakouts